AUTHOR
Fred Kelly, MD
This page gives some of my personal biographical information for anyone who is interested in such things.
My family has lived in southern Louisiana near the capitol city of Baton Rouge since about the time of the Louisiana purchase. In 1951, I graduated from L. S. U. School of Medicine.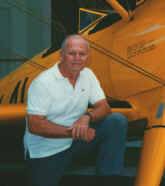 My Navy flying career began in 1945 when I learned to fly the Stearman (shown here) at the Naval Air Station Glenview. I retired in 1975 as a dual designated flight surgeon/naval aviator with about 1600 pilot hours in a dozen naval aircraft including over 1000 hours in the A-4 Skyhawk.
At the Naval Missile Center, Point Mugu, CA in 1958, I developed and patented the floating biomedical electrode. This electrode concept made it possible to record high quality EKG and EEG records on pilots flying intercept missions in the F-4 and other high performance aircraft. Today the floating electrode concept has a wide variety of clinical uses in surgery, intensive care, and exercise test.
My NASA career began as an aeromedical flight controller for Project Mercury in 1959 and ended after the first six shuttle launches as Medical Director for Occupational Medicine and Environmental Health at the Kennedy Space Center and the Cape Canaveral Air Force Station for Pan Am World Services. During this time I served as a NASA flight surgeon on Project Mercury and the Gemini, Apollo, and Sky Lab programs. I was the senior NASA flight surgeon present at the tragic Apollo 1 accident and headed the medical panel during the accident investigation.
Professionally, I am a Diplomat in Aerospace Medicine certified by the American Board of Preventive Medicine, a Fellow in the American College of Preventive Medicine and the Aerospace Medical Association, Past President of the Society of NASA Flight Surgeons, member of the American Rocket Society in 1959, and a founding member of the Mars Society. I served as flight surgeon for the Navy, NASA, and the Royal Saudi Air Force, and consultant to the Aeromedical Training Wing of the Egyptian Air Force.
My writing career began by writing medical reports for some of the Mercury flights and all of the Gemini flights. It has continued into my retirement. My mail forwarding service in Roseburg, OR is the best way to contact me.
I travel most of the time and access to e-mail is sporadic, but my e-mail address is fredkelly@marsjournal.com.
To return to the home page click here. Mars Journal